December topic: Critical Issues in the Assessment and Management of Self-directed Violence and Intersecting Risks
Presenter: Dr. Brianne K. Layden [CAN]
Self- and other-directed violence share underlying risk factors and commonly co-occur, particularly within criminal justice settings (Chowanec, Josephson, Coleman, & Davis, 1991; Hillbrand et al., 1996; Jones, 1986); however, there is a paucity of literature on the assessment and management of intersecting risks. As such, this presentation will:
1) review the benefits and application of Structured Professional Judgement methods in the assessment of selfdirected violence,
2) review overlapping and distinct risk factors for self- and other-directed violence; and
3) discuss methods for identifying warning signs for intersecting risks as well as immediate actions that professionals can take to mitigate the risks posed.
Self-directed violence includes any actual or attempted physical harm to the self that is deliberate and not socially sanctioned. Acts of self-directed violence fall on a continuum in terms of intent from intentionally non-lethal behaviours (i.e., non-suicidal self-injury) to actions that are carried out with some degree of expectation or intent to cause death (i.e., suicide) (Walsh, 2006). Behaviours carried out with ambiguous intent, or reckless behaviours that could potentially be lethal (but without clear intent) would fall somewhere in the middle of this continuum. The World Health Organization (2002) and United States Centers for Disease Control and Prevention (CDC) (CDC 2015) conceptualize these behaviours as forms of violence. Despite the similarities in nomenclature, the fields of self-directed and general violence appear to have learned little from each other over the years, and few professionals are comfortable with assessing and managing cases in which these two risks intersect.
This presentation will be particularly relevant for threat assessment professionals working in law enforcement, higher education, forensic mental health, corrections, security, and victim services.
About the speaker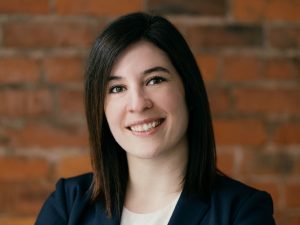 Dr. Brianne K. Layden completed her PhD in clinical-forensic psychology at Simon Fraser University, a clinical internship at the University of Massachusetts Medical School/Worcester Recovery Center and Hospital, and a Forensic Psychology Fellowship at the University of Massachusetts Medical School. She currently works as a Threat Assessment Specialist at Protect International Risk and Safety Services Inc., is the associate editor of Intelligence, and a Member-at-Large on the Board of Directors for the International Association of Forensic Mental Health Services. Her expertise involves the assessment and management of selfdirected violence and personality disorders, particularly borderline personality disorder, and intersecting risks (e.g., general and self-directed violence).


Date: Wednesday 8th December 2021
Time: 14:00 – 16:00 (CET)
Duration: 2 hours
Platform: Zoom
Fee: 50 Euro for non-members
Free Registration for AETAP and TAP members!

COVID Exit-Plan: How to Prepare Your Organisation for Post-Pandemic Threats
Presenters: Melissa Muir [AUS] – Leeran Gold [AUS] – Totti Karpela [FI]
The Relationship of Conspiracy Beliefs and Violent Extremism
Presenters: Bettina Rottweiler [UK] – Paul Gill [UK]
Threat assessment – The importance of fear management
Presenter: Dr. Kelly A. Watt [CAN] 
Violent Thoughts and Violence Risk
Presenter: Dr. Stephen D. Hart [CAN]